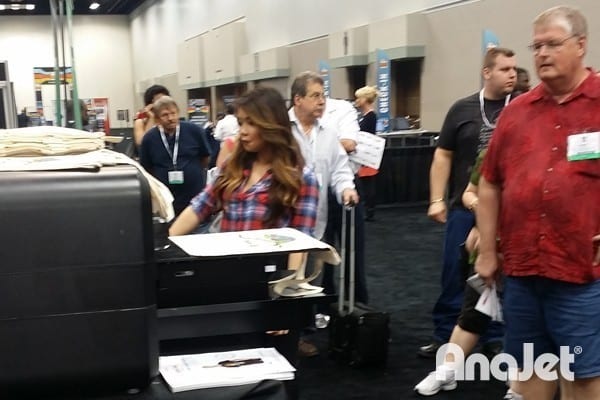 AnaJet Attended NBM Indianapolisat the beginning of June in Indiana. NBM Indy is only a piece of a larger series of tradeshows organized by the National Business Media. They offer multiple dimensions of opportunity to improve business by producing shows that offer the latest equipment, supplies, and services in the sign making, digital printing, apparel, apparel decorating, embroidery, screen-printing, sublimation, awards, engraving and custom gift markets.
Thousands attended NBM Indy and explored the hundreds of vendors who offered a variety of services and equipment suited for a multitude of promotional business needs. AnaJets mPowerwas an excellent match to what NBM attendees were looking for, with it being the fastest single platen direct-to-garment printer, many stopped by to check out our mPower in action.
If you attended the show, you might have seen our girl Deana Leelachat handing out our canvas tote bags for all those curious on the mPowers printing capabilities. Our booth was crowded with spectators who wanted to learn more from the leader in the direct to garment industry. Also, a big shout out to Katie Aretos of Your Graphicwho stopped by our booth to share her personal experience with our printers.
Well be doing another NBM Show this month in Long Beach California. To check out our full trade show schedule check out our events calendar to see where well be heading next!