DTG Printers Built for Business
Ricoh Ri 100 Technical Specs
The Ricoh Ri 100 is the first and only compact all-in-one custom garment printing system.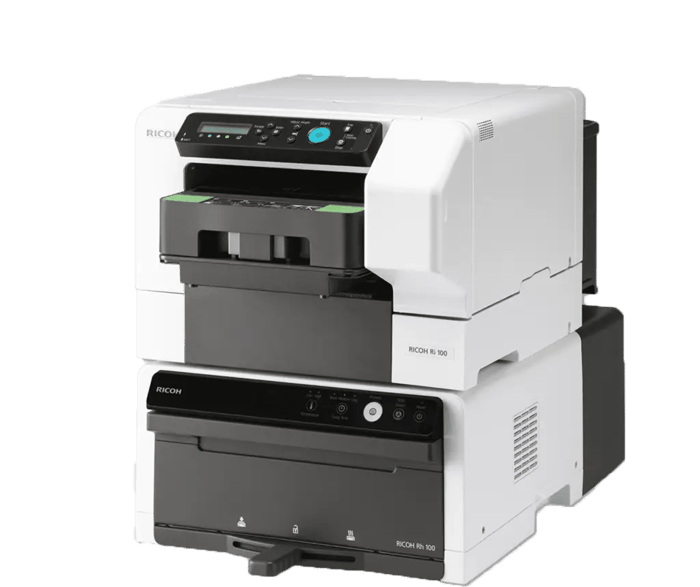 Ri 100 Technical Specifications
Feature
RICOH Ri 100
Printing Method
Direct to garment printer
Technology
On demand piezo inkjet system
Resolution (dpi, bit/pixel)
Speed Mode: 600 x 600
Fine Mode: 600 x 600
Vivid Mode: 1200 x 1200
Dimensions
15.7" x 27.5" x 11.5" (Installation)
15.7" x 29.9" x 11.5" (Operation)
Weight
55.1 lbs. (24.99 kg)
Printable Area
A4 Tray 11.7" x 8.3"
A5 Tray 8.3" x 5.8"
Printable Garment Types
Fabric: Light cotton garments or up to 100% light poly. Not intended for dark cotton or poly garments.
Color: Light garments only
Media: T-shirts (from baby to adult sizes), tote bags, sweatshirts, polo shirts
Fabric Thickness
A4/A5 Tray: Less than 0.16" (4mm)
Rating Power Spec.
US/Japan Version: 100 - 120V, 50/60Hz
EU/Asia/China Version: 220 - 240V, 50/60Hz
Power Consumption
Active: Less than 27.5W
Energy Saving Mode: Less than 2W
Power Off: Less than 0.5W
Operating Conditions
59F (15C) - 89.6F (32C) Humidity 15% - 80% RH
Warm-up Time
Less than 35 seconds
Compatible File Formats
PNG, JPG (TIFF, PDF, BMP output available through design software of choice)
Feature
RICOH Rh 100 Finisher
Fix Modes (Fusing)
Contact pre-press
Contact heating mode
Non-contact heating mode
Press Mode (Pre-Heating)
Contact Heating
Machine Size
15.7" x 23.6" x 8.7"
Weight
Less than 40 lbs.
Rating Power Spec
100 - 120V, 50/60 Hz
Energy Consumption
Less than 1300 W
Temperature Range
356F (180C) (Default) 329F (165C)
Feature
Supported Environment/Connectivity

Host Interface

USB 2.0 High Speed, 10BASE-T/100BASE-TX, IEEE 802.11 b/g/n

Network Protocol

TCP/IP

Network/Operating Systems

Windows Vista/7/8.1/10/2008 Server/2012 Server/2016 Server, Mac OS X 10.9 or later

Safety Standard

UL / CE / IEC

EMC

FCC / CE / C-Tick/RCM

RF

FCC / RSS-210 / RE / C-Tick/RCM
Feature
Target Consumable Yield

Ink Type

Pigment Ink

High Yield

RICOH Garment Ink Cartridge K (Hi Yield) Type 1


140ml/cartridge, Average 600 prints


RICOH Garment Ink Cartridge C, M, Y (Hi Yield) Type 1


100ml/cartridge, Average 500 prints

Regular Yield

RICOH Garment Ink Cartridge K Type 1


50ml/cartridge, Average 200 prints


RICOH Garment Ink Cartridge C, M, Y, Type 1


35ml/cartridge, Average 150 prints
See what's in the box
Contact us for our latest promotions or to find out everything we're offering in our Ri 100 DTG Printer package.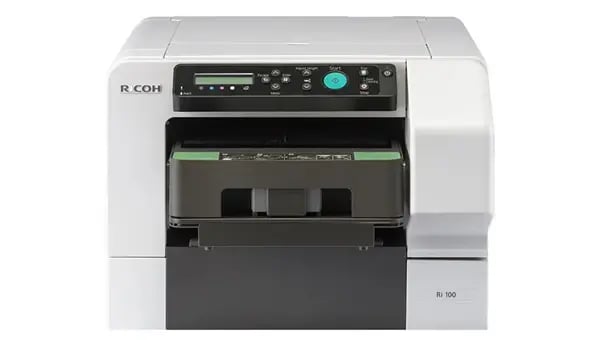 Ricoh Ri 100 Garment Printer with 1-year Warranty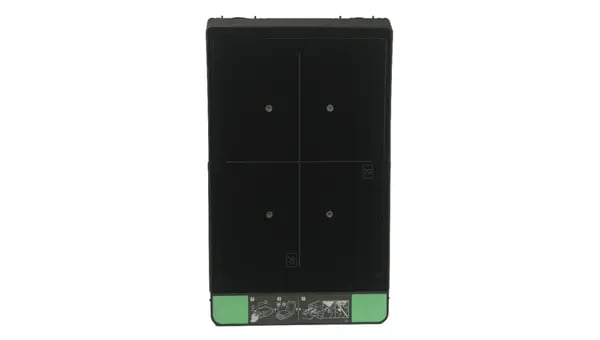 1 Standard Size Shirt Platen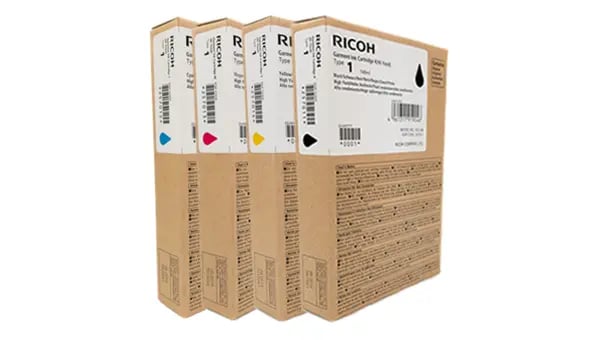 Full CMYK Hi Yield Ink Cartridge Set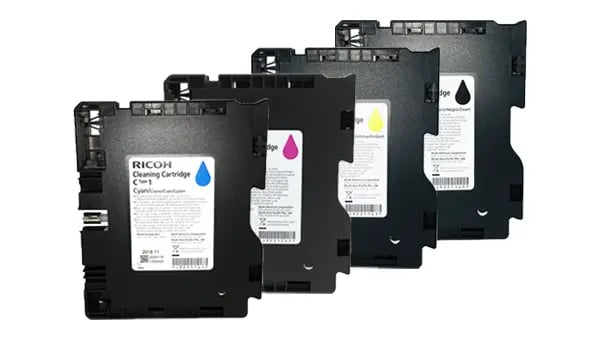 Full Cleaning Cartridge Set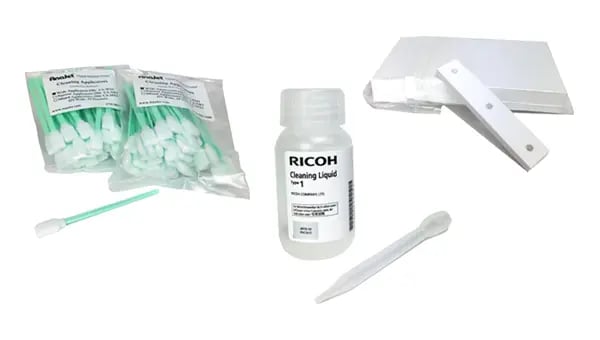 Maintenance Supply Kit
The best deals on the Ricoh Ri 100, direct from the manufacturer!
Already a Ricoh DTG owner?