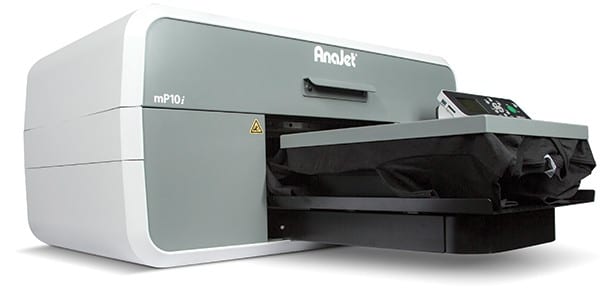 AnaJet is excited to announce that the next generation mP5i and mP10i mPower iSeries printers will be on display later this week atNBM Long Beach on July 23-25.We will be showing off the new design inside and out. Visitors to the show will have an opportunity to watch the new machine print samples and check out all the new improvements.
Here are some of the product updates: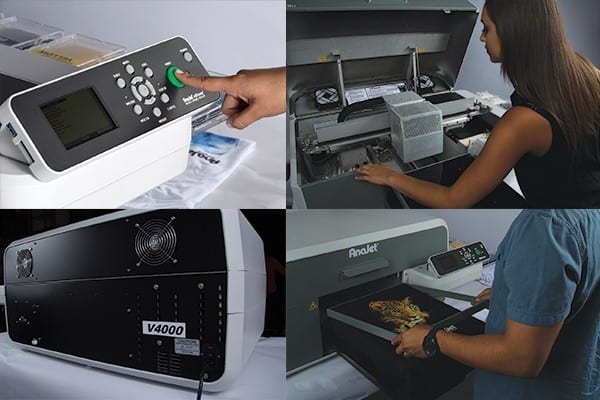 Enhanced Performance & Stability
Next generation Maintenance Station
Re-engineered capping mechanism for improved seal with print heads
Redesigned wiper blade armature now moves up and down rather than side to side for smoother, faster operation
Ink Splash & Overspray Control
Added covers for internal circuit boards
Clear coated print head circuit boards
Incorporated 2 fans into back panel to draw ink particles away from critical internal components
Power supply casing redesigned to direct airflow externally
Relocated encoder strip to minimize ink contamination

New and Improved Design
Relocated control panel from printer lid to ink bay for easier operation during maintenance
New handle added for safer opening of printer lid
Front panel finish that reduces visible finger prints and smudges
Easy to clean coating on outer shell

Updated Software Features
FreeSPARKSoftware included ($695 value) – Limited Time
New network enabled features
Ethernet connection to make the mPower networkable
Multiple printer support
RIP Automation Features
AutoRIP designate hot folder(s) on your computer, when new graphic files arrive in these folders, AnaRIP will automatically RIP graphics with no user interaction required.
New ICC Profile for improved ink saturation and smoother gradients.
Multiple language packs available (English, Spanish, Korean & Chinese)
The new mPower printers are slated to begin shipping to USA customers only in late August and are now available for pre-order with a $2000 deposit. Placing a deposit will secure your spot in receiving the next generation printers. Call us at 1-877-626-2538 to speak to a sales representative. Or, for international customers, please email bizdev@anajet.com for more information on the international launch of the new printer.
Interested in seeing the printer live? Come check us out atNBM Long Beach.