The demand for custom face masks is on the very brink of exploding into mainstream popularity, making this the perfect time to add custom face masks to your existing custom apparel business or to start a new business printing and selling face masks.
With the ongoing global Coronavirus pandemic, the need for face masks couldn't be greater. Let's take a closer look at this market and try to put it into perspective.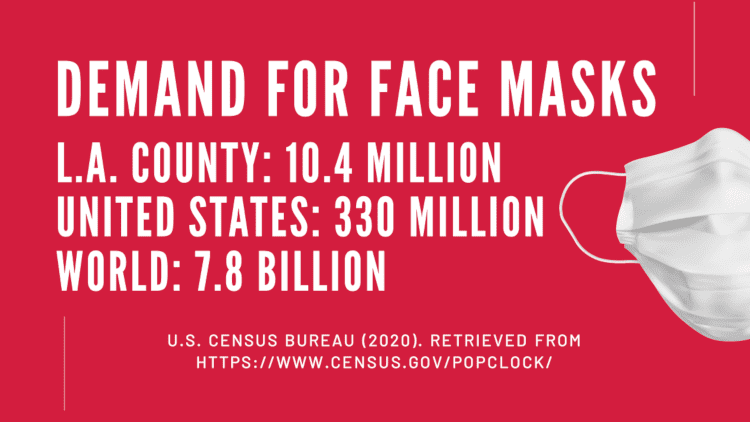 According to the U.S. Census Bureau, there are almost 330 million people living in the United States — that is a huge market of men, women, and children who potentially need face masks. If you sell internationally, you have an even bigger audience of almost 7.8 billion people!
Those numbers are staggering. What they really mean is that there are a huge amount of people who need your product, demand will not slow down any time soon, and, most importantly, there aren't many businesses out there (yet!) who are creating and selling custom face masks. This is your opportunity to get in early on an incredibly profitable business.
How much money can you make selling custom face masks?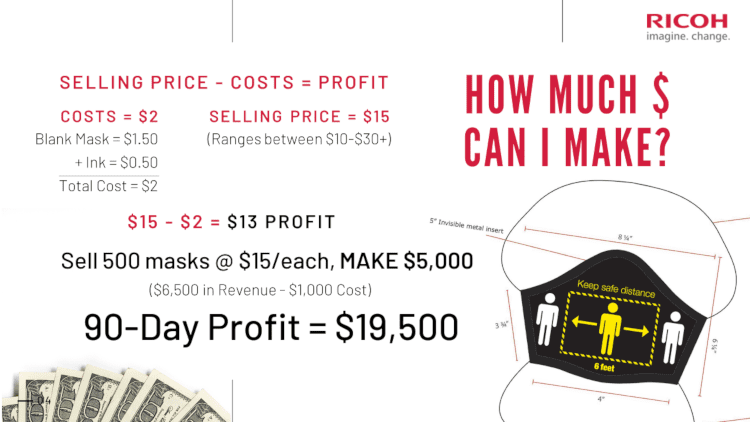 One of the biggest reasons why face masks are a great product to sell is because they have a high profit margin. The cost of your materials are low, they're quick to make, but they can be sold with a healthy markup — especially because custom face masks are novel, not yet widely available, and fully personalized for the user.
When figuring out if a DTG-printed product is profitable, simply take your selling price and subtract your costs. For example, if you decide to sell a customized face mask for $15 and it costs $2 to create the mask, you will make $13 in profit. Sell 500 of those masks at $15 each, and you'll make $5,000 in profit!
For simplicity's sake, we used some easy numbers as examples but be aware that there will be some variation depending on factors like your market, location, mask design, and your brand. To be on the safe side, these are conservative estimates based on averages commonly seen in the industry. Generally, blank masks cost about $1.50 each and you will end up using $0.50 in ink.
Where you will find more variation is the selling price of your custom masks. We've seen face masks selling between $10 and $30 each and simply chose $15 to use in the example above because it was in the middle of the range. Adjust your selling price depending on how much design work you need to put into it and what your customers are willing to pay.
What do you need to print customized face masks?
To make a custom printed face mask, you need a direct-to-garment printer, a computer with design and RIP software and, of course, blank face masks on which you will print your designs.
1. A direct-to-garment printer
Choose the Ri 100 as a lower-cost option for printing white/light-colored face masks
When choosing the right DTG printer for your needs, the primary things to consider are your budget and the color of masks that you want to print. A smaller, entry-level printer like the RICOH Ri 100 is the least expensive way to get started printing face masks as quickly as possible. The Ri 100 is an all-in-one unit, meaning it comes with everything you need to start printing custom apparel immediately. You are, however, limited to printing only on white or light-colored garments. The reason for this is because the Ri 100 does not utilize the white ink required to print on dark garments.
For images to appear correctly on dark garments, your printer must have the ability to first print a layer of white ink, or underbase. The colored ink is then printed on top of it. The underbase ensures that there is a smooth, pure white surface that allows colors to appear vibrant and true to the shades in the digital image that you are printing.
Though it does not print with white ink, the Ri 100 is still incredibly versatile. You are not limited to just white garments. You just have to be mindful that, without the ability to print a white underbase, the color of the garment will show through the ink. However, images still look incredible when printed on light colors like pastels and light gray.
Choose the RICOH Ri 1000 for printing on any color face masks, including black and dark colors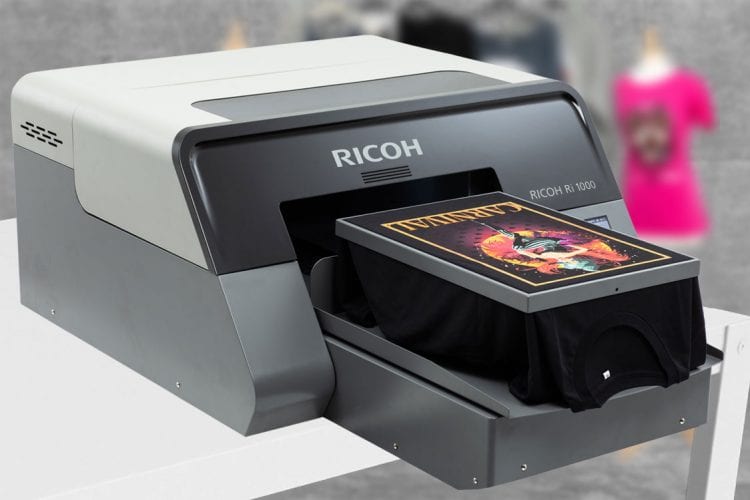 The RICOH Ri 1000 is widely regarded as the industry's best direct-to-garment printer and was named SGIA 2019 Product of the Year in the category of Direct-to-Garment Printers for Black Shirts, considered to be the highest honor in the DTG industry.
Whether you want to print black, dark navy, white — or any color — of face masks, the RICOH Ri 1000 gets the job done. Though the RICOH Ri 1000 is more expensive than the Ri 100 and requires more of a learning curve to master the machine, it is a full-featured direct-to-garment printer at an affordable price and is ideal for both new DTG businesses and veteran decorated apparel shops who wish to expand their offerings and grow their revenue.
2. Reliable PC with Design and RIP Software Installed
To print face masks — or any other type of apparel — you will need a PC with design software for editing your images and raster image processor (RIP) software for processing the images into a printable file, commonly referred to as a "RIP."
The most popular design software is Adobe PhotoShop. However, you can use any photo editing software, including free options like GIMP. You can create your own images or purchase stock images and use the software to edit the images and create custom text like messages or a person's name.
The RIP software that you use depends on your printer. All Ricoh DTG printers come with RIP software optimized for your machine. You can use the included free software to get started printing immediately and our included software easily handles most of your printing needs. As your shop or skills grow or you acquire customers with specialized requests, we also offer optional advanced software that allows you to do things like automate your workflow or standardize colors across different types of devices like latex and UV flat bed printers.
Buy Blank Face Masks for DTG Printing
All types of face masks, including blank masks, have been in short supply since the rise of the COVID-19 pandemic, starting in March of 2020. Fortunately, as of the date of this article, masks are more readily available. You can try searching on Google for blank masks. Amazon and Etsy are good options as well. One of the best places to source masks, however, is from vendors who have traditionally provided blank apparel for the print industry. Most of these vendors deal only with wholesale accounts, so you may need a business license in order to purchase them.
To make this process more simple for our customers, we've assembled a list of the best places to buy blank face masks for DTG printing. Simply give us a call at 1-877-381-9546 or contact us here, and one of our DTG experts can provide this list along with additional helpful information on printing face masks and custom apparel.
How to Print Custom Face Masks
Once you have everything you need to make custom face masks, you're ready to focus on the fun part: printing your masks!
1. Pretreat your mask (black/dark-colored masks only)
If you are printing with white ink on dark-colored masks, you need to pretreat your mask before printing. This ensures that the white ink will adhere evenly to the mask and your print will turn out vibrant and sharp. If you're not utilizing white ink, pretreatment is not required.
It's also important to note here that pretreated masks should be washed before they are worn. Be sure to include a tag or insert with a warning and wash instructions when selling pretreated masks.
2. Prepare your image for printing
Once you've settled on the design that you would like to print, you'll have to convert it to a RIP, which is a file that your printer can read and process. Use our included AnaRIP or ColorGATE software to rip your image file.
3. Position and print your mask!
To print a mask on a DTG printer, you will need to secure it to the print table of the machine so it doesn't slide around while printing. This can be accomplished by simply using some double-sided tape. For even easier results, you can use a custom platen created specifically for printing face masks on the RICOH Ri 1000. CustomPlatens.com makes these for both seamless flat masks and for masks with a center seam.
4. "Cure" your design.
If you are printing with white ink on dark masks, you will need to "cure" the ink into the fabric using a heat press or tunnel dryer. This ensures that the image is fully permanent.
And that's it! Your mask is ready to sell.
Ready to get started printing and selling custom face masks?
Contact us today at 1-877-381-9546 or fill out the form below to receive your FREE list of resources for printing blank face masks and for additional information about Ricoh direct-to-garment printers.