Award-winning DTG printers. Unmatched support.
Grow your business easily with Ricoh DTG printers
Get the best direct-to-garment printers that print on virtually any apparel with the speed and ease of use to operate profitably. And rest easy, the best support in the industry comes standard.
Meet the newest DTG Printers in the Ricoh family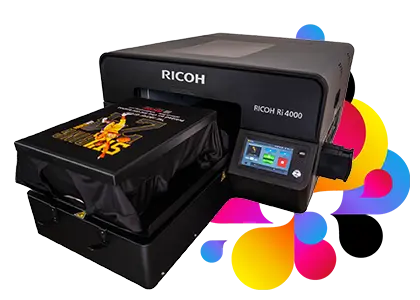 Ricoh Ri 4000 DTG Printer
Our ultimate direct-to-garment printer for high-performing businesses.
Prints on 100% polyester in any color

Automated pretreatment process

Reduced ink and consumables usage

Improved automatic maintenance system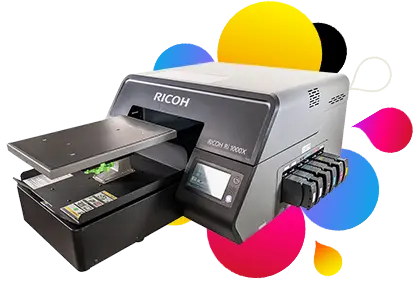 Ricoh Ri 1000X DTG Printer
See our latest technology upgrades to our award-winning DTG printer line
One-click dark garment printing

Quick switch direct-to-film prints

Strengthened platen with finer table height control

Reduced ink usage and simplified cleaning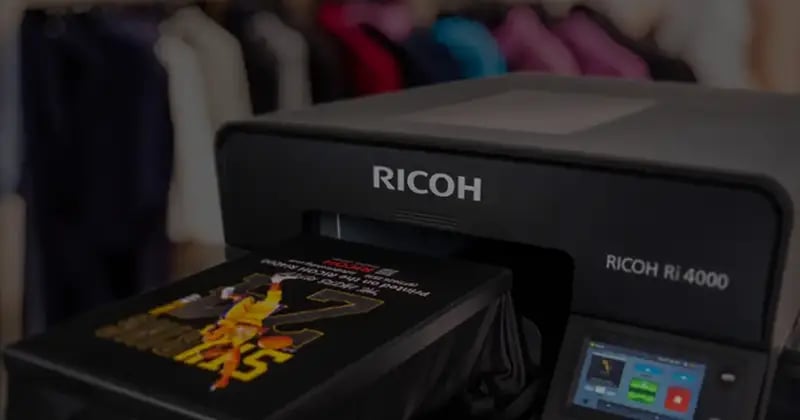 Ideal for high-volume production
Ricoh Ri 4000 Direct-to-Garment Printer
Ricoh Ri 4000 is a game-changing DTG printer with built-in Enhancer technology which means an end to manual pretreatment. Ri 4000 will complete the pretreatment process for you. Using Ricoh newly developed ink, you can now print on 100% Polyester with unprecedented speed and efficiency.
Ideal for mid- to high-volume production
Ricoh Ri 2000 Direct-to-Garment Printer
The Ri 2000 is our fastest, top-of-the-line DTG printer with ultra-vibrant accurate color, superior versatility, and easy automated maintenance. Perfect for higher garment output, low-cost operation, and high-end prints and durability.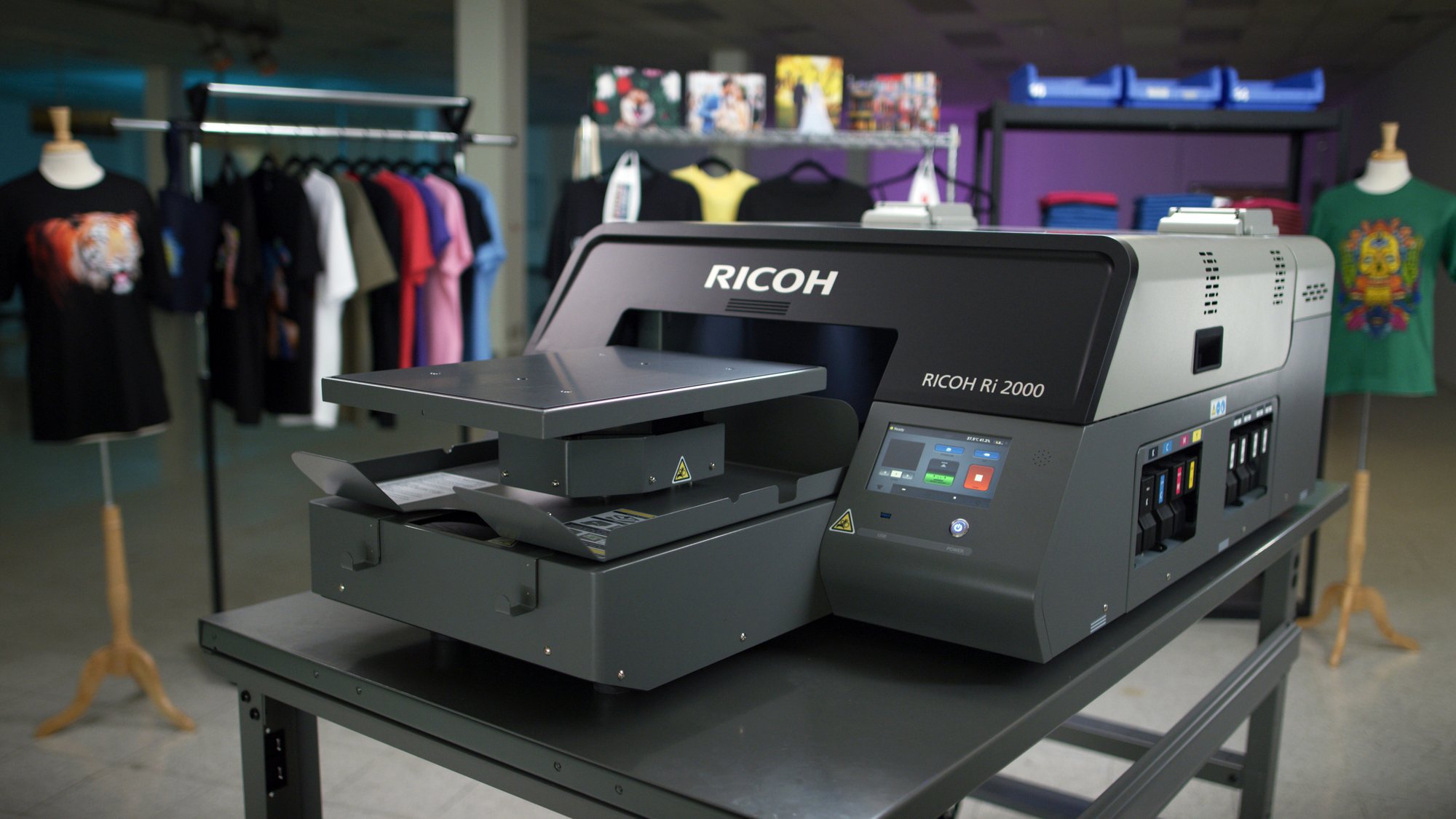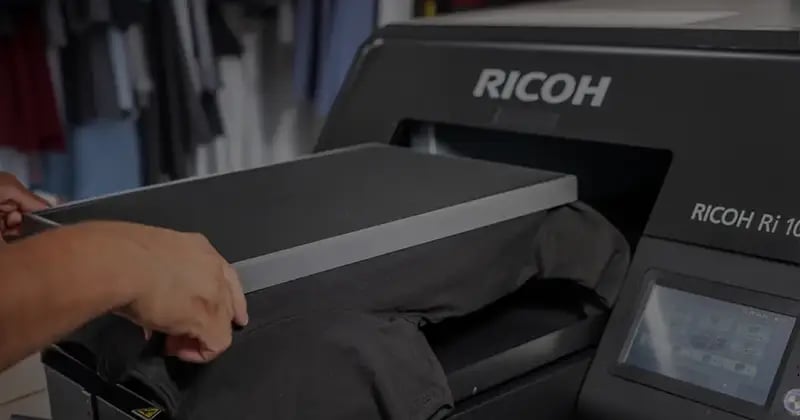 Ideal for mid-volume production
Ricoh Ri 1000X Direct-to-Garment Printer
Faster speeds, enhanced print detail, and better performance: the new Ricoh Ri 1000X, with improved stability platen, provides the top-notch performance to achieve the best color brightness while reducing ink consumption.
Ideal for mid-volume production
Ricoh Ri 1000 Direct-to-Garment Printer
The Ri 1000 is the best-in-class DTG printer with blazing fast speed, vibrant accurate color, and built-in maintenance automations. Perfect for fast garment output, low-cost operation, and high-quality prints and durability.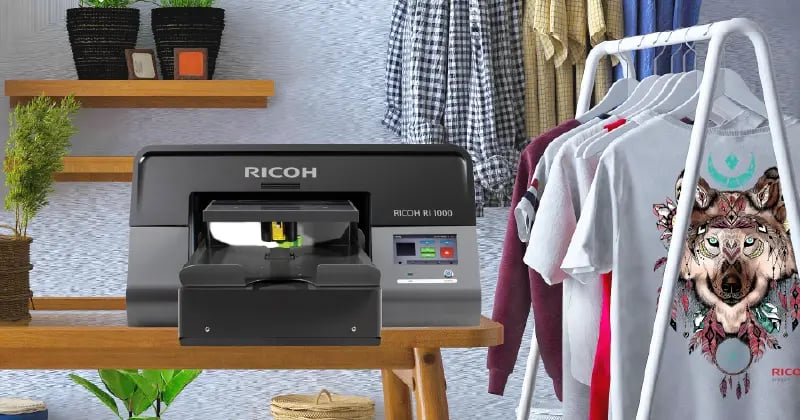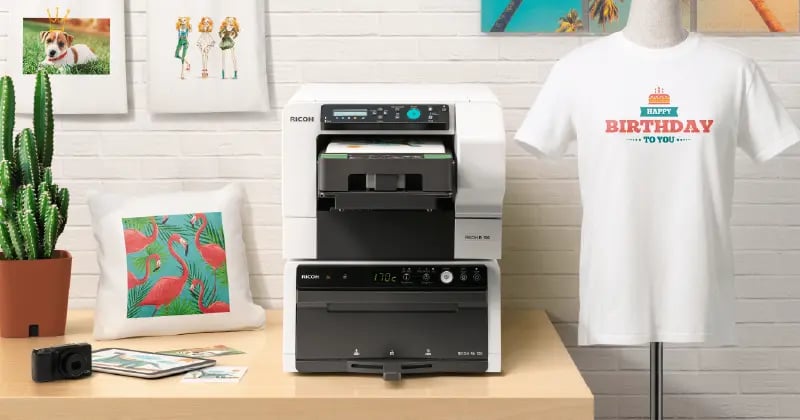 Ideal for startups, in-house, or on-the-go
Ricoh Ri 100 Direct-to-Garment Printer
The Ri 100 is the ultimate entry-level DTG printer, easy for anyone to print beautiful, long-lasting, comfortable garments. Easily add DTG printing or start a new business — fits on any store counter or compact enough to take to events.
Our commitment to customer success
See why so many apparel businesses rely on our DTG expertise
Hands-on, expert DTG guidance
Ricoh doesn't just sell DTG printers, we provide you with all the skills and knowledge to operate your DTG business profitably. Visit Ricoh DTG University.
Comprehensive certified Ricoh DTG training
Ricoh offers comprehensive training which includes ink installation, graphics preparation, printer operation and maintenance.
Your one-stop DTG shop to print successfully
Ricoh also sells a full range of inks, cleaning and maintenance supplies, platens, pretreatment and heat presses, all at amazing prices. Visit our DTG store.
Get the superior quality you expect from Ricoh and impress customers with durable, beautifully printed apparel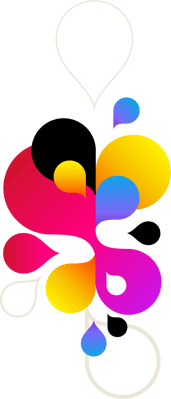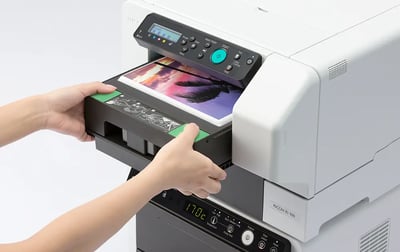 Beautiful, vibrant, and durable printed apparel, in just a few esy steps with Ricoh's award-winning DTG printers
Faster print speeds and garment loading
More vibrant colors with superior Ricoh design and inkjet technology
See your designs in beautifully crisp, high-resolution prints, up to 1200 x 1200 dpi, thanks to Ricoh's high- accuracy dual carriage, auto heigh adjustable tables, 3 pL minimum ink drop size, and dressable platens.
Ultimate apparel versatility lets you print more than shirts
Our quick-change magnetic platens let you print with higher accuracy on wide varieties and sizes of apparel like shirts, hoodies, hats, shoes, and more, up to an extra-large 16" x 19.6".
Easy-to-use digital touchscreen
A built-in 7" color touchscreen gives you complete control of printer functionality, including storing designs for quick access, auto setting table height, or previewing your design on screen.
Faster processing and control with the latest Colorgate software
Using ColorGate and optional Spark Design software, quickly process design files, customize, and print your designs with more vibrant, accurate colors than ever.
Ricoh DTG printers help you spend more time on your business and less time on maintenance
Automated monitoring, cleaning and white ink agitation systems
Intelligent auto cleaning, white ink agitation, and continuous monitoring of ink supply and air levels are all automated, greatly reducing maintenance times.
Automatically calculate ink costs and consumption
Using Ricoh's RIP software, get an accurate measure of the amount of ink required and ink cost per garment, helping you set prices more accurately.
Built-in interactive operation and smart alerts
With our large 7" color touchscreen, the built-in interactive guide send you smart alerts to help you stay on top of routine manual maintenance tasks.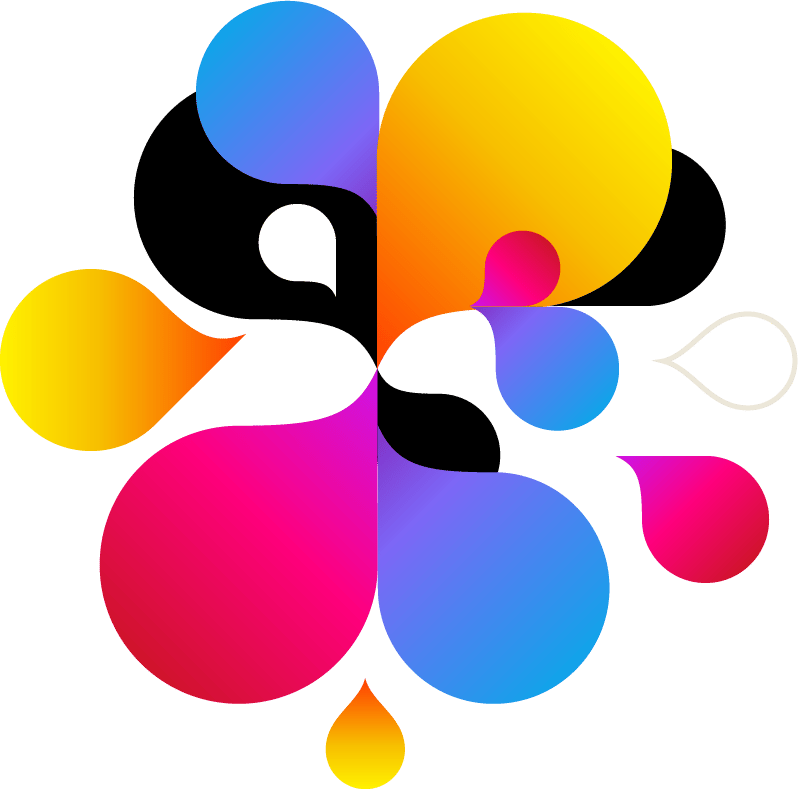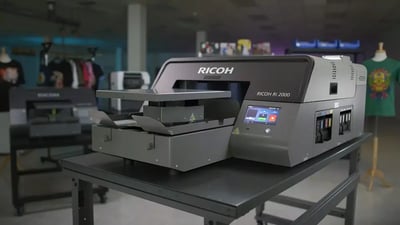 Optimize profitability by varying printing operation in direct-to-film mode
Eliminate pretreatment to save time and money
Unlike with direct-to-garment, DTF transfers don't require fabric pretreatments, even for white ink.
Reduce your inventory space with preprinted DTF transfers
Because DTF transfers take up little space, it's easy to store and transfer on demand without over-investing in inventory.
Easily transfer the same design to a variety of other products
With DTF, easily transfer designs to a wider variety of garments and surfaces, like polyester, satin, leather, stretchy materials, and more.
Shop our latest offers
Get the best deals on the top DTG printers on the market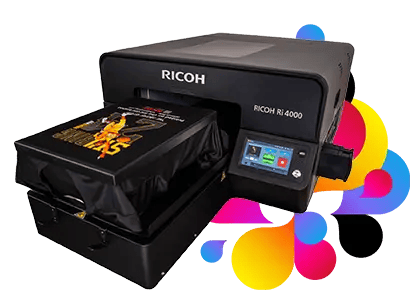 Ri 4000 DTG Printer
Contact sales

for pricing
Ask how to qualify for $0 down / 0% financing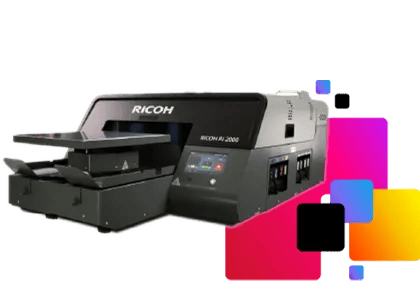 Ri 2000 DTG Printer
Prices starting at

$390/month
Ask how to qualify for $0 down / 0% financing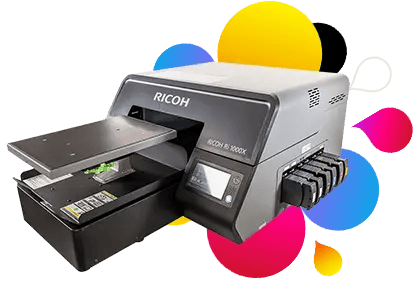 Ri 1000x DTG Printer
Contact sales

for pricing
Ask how to qualify for $0 down / 0% financing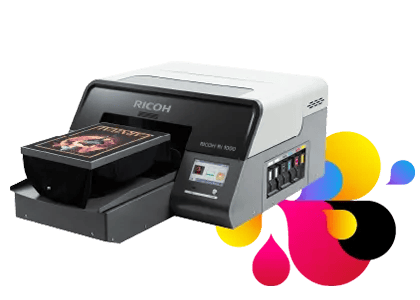 Ri 1000 DTG Printer
Prices starting at

$275/month
Ask how to qualify for $0 down / 0% financing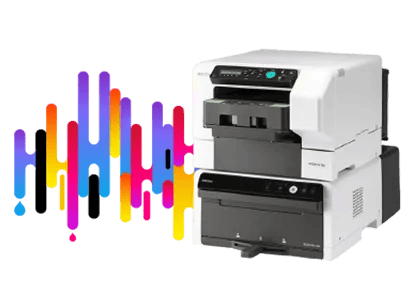 Ri 100 DTG Printer
Limited time offer

$3,726
Ask how to qualify for $0 down / 0% financing
Featured DTG printing articles
Garment printing tips, tricks, and more from our DTG printing experts
Award winning garment printing technology by Ricoh, built for successful apparel businesses
The best professional DTG printer in its class is now even more affordable. Backed by the world's leading print technology and dedicated DTG success team by Ricoh, we make it easy to start a new apparel business or to expand with DTG/DTF printing.

Get the best deals on your next Ricoh DTG printer!