Read The Full Article Here – Screen Printing Magazine Digital Edition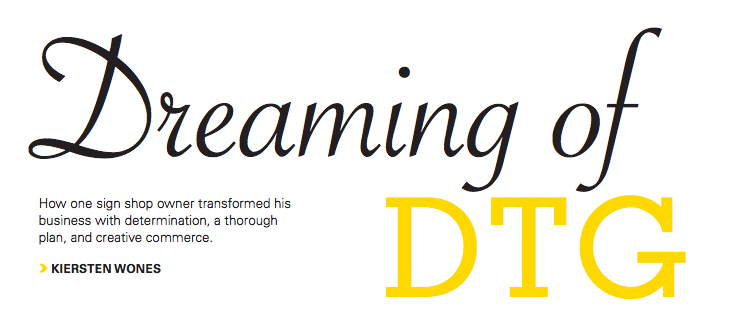 (Excerpt #1)
Michael Wright has never been afraid to dream up an idea and act on it. He got hooked on the sign business right out of high school working at a shop in northern Virginia. Just a few months after getting into business, Wright visited a tradeshow in Charlotte, looking for new ideas. Digital technology was everywhere, he says, and when he stumbled across the direct-to-garment hotspot, "I just fell in love with the technology." His business partners weren't so convinced ("basically, everyone was against me," he remembers), but the resistance he met from his family may have been the best thing that could have happened for the shop's future in DTG. To move forward, Wright had to come up with a thorough and convincing business plan that would prove the value of the technology. A watertight business plan is everything when bringing in a direct-to-garment printer.
(Excerpt #2)
"Screen printers just don't want to touch [DTG]," he says, so he looked for a market niche that the local garment decorators weren't meeting. "The main focus was these small businesses that couldn't afford these huge runs." Then it was all about the math. He assumed a bare minimum: "If I only sell this many shirts in a month, I can make the payment just for the machine, and that's all I'm concerned about at the moment." After five months of research, the family was on board, and Signworx bought an AnaJet MP5i direct-to-garment printer. The goal was to see a return on the investment in a year. They did it in six months, and today, they earn enough money for the monthly lease in just a week.

(Excerpt #3)
No new venture is without its challenges. Wright says the biggest obstacle was simply solving the mystery of how to make DTG understandable for local customers who were stuck on the tradition of screen printing. "When you tell them you just print directly onto the shirt, a lot of people are kind of hesitant, going, 'Uh, it doesn't sound like it's gonna be that good,'" he says. "Most of that was overcome by saying, 'Just come down to my shop and I'll print one for you.' About 75 percent of the time, people would buy shirts after that." Others would bring us what the screen printer did, and they were disappointed in the fact that they weren't able to get the same colors." With DTG, the limitations are very few, Wright adds. "'What does your logo look like? I can print it exactly like that.' My selling point is to try and help people understand that I can do as many colors as they want on just 10 shirts," Wright says. Signworx's average run size is about 20 shirts today, and orders of less than 10 are common. The day he spoke with Screen Printing, Wright was working on one run of six and another of 22 for the same client, a tractor-puller who was looking for a proof of concept that he could sell his own line of T-shirts.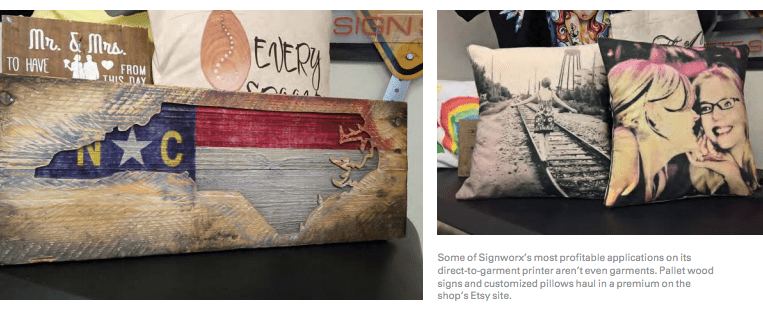 (Excerpt #4)
When Signworx started printing garments, the product made up about 2 percent of their profit. Today, it's closer to 40, and he wonders if it'll take over the majority of their business within a few years. Funny what can happen when someone dares to dream.