AnaJet (a RICOH Company) releases new web-based dashboard that makes maintenance easier and provides information on ink usage and print volume.
TUSTIN, CA, July 10, 2018 – AnaJet (a RICOH Company) is excited to release the Ricoh DTG Printer Analytics Dashboard, an online tool designed to provide U.S.-based Ricoh direct to garment printer users with important information about their machines.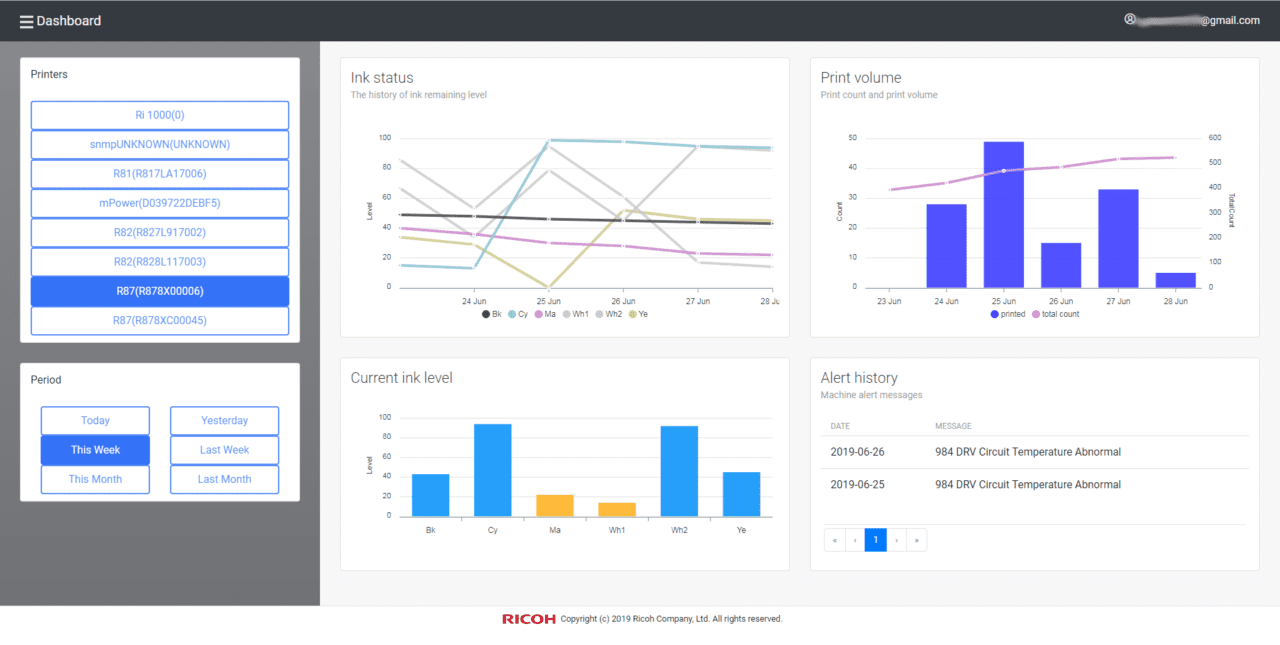 The new Printer Analytics Dashboard provides helpful insight into the status of the machine.
Accessible via web browser, the Printer Analytics Dashboard compiles insightful information for connected RICOH Ri 1000 and Ri 3000/Ri 6000 machines. Benefits of the dashboard include:
Easier printer maintenance. Thanks to a dashboard module that displays current ink levels for up to 10 Ricoh direct to garment printers, a user can now see when an ink cartridge needs replacement — even when they're nowhere near their printer. In addition, the dashboard also gives convenient access to Maintenance Alert history, helping users keep track of maintenance performed on their machines.
Valuable insight into a print business. The dashboard provides users with data on print volume and how much ink is being used.
Easier planning and purchasing. Users can plan and manage their ink inventory more efficiently with access to information on their ink usage over time.
To activate their dashboard, customers must install and run a lightweight application called Data Collector. The utility gathers relevant data from your printer which is then used to populate the dashboard's information modules.
An added benefit of installation is a more efficient technical support process. In the past, troubleshooting required a customer to download and email raw printer logs, which can be a time-consuming process. With the new printer analytics tool, service technicians can identify error events more easily and use printer health statistics to troubleshoot issues more efficiently.
To encourage customers to try out the new Printer Analytics Dashboard, AnaJet is offering a $50 coupon to the first 250 customers (USA only) who install and activate Data Collector.* The coupon may be used for any purchase in AnaJet's online store. Available as part of the AnaRIP software package, Data Collector is available for download on Anajet.com.
The Data Collector tool does not collect users' customer information or data on specific graphic files. The utility can be disabled at any time. RICOH Ri 1000 customers must have the latest firmware installed to ensure compatibility with Data Collector.
*Restrictions apply. Offer is only available to customers based in the USA. Installation and activation must be fully completed by customer and verified by AnaJet in order for customer to receive coupon. Coupons may take up to 2-3 weeks for processing and will be sent as a discount code to the email address listed on customer's AnaJet account.
About
About AnaJet
AnaJet has been a true pioneer in the direct-to-garment printing industry starting with the mass production of its first printer line in 2006. AnaJet became a Ricoh company in late 2016, and the two immediately united to begin research and development on the flagship RICOH Ri 3000/Ri 6000 printers. In 2018, AnaJet launched the ground-breaking Ri 100, which was named a 2018 CES Innovation Awards Honoree. AnaJet continues to set the bar in the DTG industry, constantly striving to create market-leading products with superior print speeds, reliability and ease of use.
For further information, please visit AnaJet.com
About Ricoh
Ricoh is empowering digital workplaces using innovative technologies and services enabling individuals to work smarter. For more than 80 years, Ricoh has been driving innovation and is a leading provider of document management solutions, IT services, commercial and industrial printing, digital cameras, and industrial systems.
Headquartered in Tokyo, Ricoh Group operates in approximately 200 countries and regions. In the financial year ended March 2018, Ricoh Group had worldwide sales of 2,063 billion yen (approx. 19.4 billion USD).
For further information, please visit www.ricoh.com
Contact
Paul Crocker
AnaJet, Inc.
(714) 668-6061
pcrocker@anajet.com