DTG Printers Built for Business
Ricoh Ri 1000 Technical Specs
With fast speeds, high image quality, more accurate colors, and automated setup and maintenance, the Ricoh Ri 1000 easily outperforms its competition.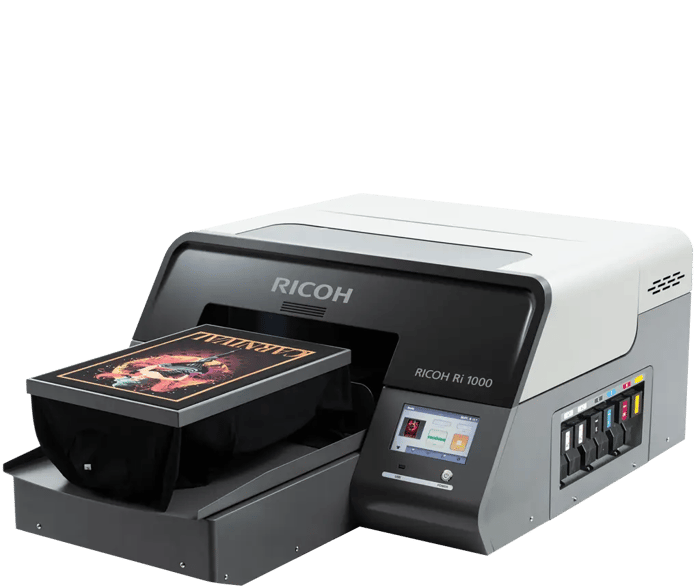 Ri 1000 Technical Specifications
Feature
RICOH Ri 1000
Printable Area
Up to 16" x 19.6" / 40.6 cm x 49.8 cm
Print Head Technology
Ricoh piezo-electric drop-on-demand inkjet
Ink Chambers/Nozzles per Chamber
4 Ricoh print heads
8 channels/192 nozzles per channel
Typical Print Speeds
(10" x 8" graphic, light garment)
Speed: 28 seconds
Fine: 42 seconds
Resolution Settings
Speed: 600x600 dpi/4 pass
Fine: 600x600 dpi/8 pass
Superfine: 1200x1200 dpi/16 pass
Ink
Genuine Ricoh-approved direct to garment water-based pigmented CMYK and white inks
Ink Delivery System
Advanced closed-loop delivery system; Auto ink circulation system for white channels
Printable Substrates
100% cotton and high-cotton blends; 100% light poly, up to 50/50 dark poly, wood and canvas. Hats, shoes and other extended media options coming soon
Table Height Adjustment
Precision manual table height adjustment up to 1.2"/3.0 cm
Maintenance Features
Precise ink monitoring, auto ink maintenance system, automated print head cleaning, power purge system to help fill and remove ink from system
Operating Environment
59F/15C to 90F/32C, Humidity 45-80% RH, non-condensing humidifier recommended
Connectivity
Supports USB drive and Ethernet
Electrical Requirements
100/120VAC 50-60Hz, 0.65A max, 70 watts
Dimensions
18.9"H x 52.2"L x 33.9"W
Weight
242.5 lbs (110 kg)
Curing Temperatures and Times - Heat Press (conveyor times vary)
Light shirt (CMYK only): 356F/180C, 40 seconds
Dark shirt (white ink): 330F/165C, 90 seconds
Pretreatment
Genuine Ricoh-approved pretreatment formulas. Use included HVLP Wagner power sprayer or automatic sprayer in a separate room from your printer.
Standard Table
Medium (Included)
12.6" x 18" / 32 x 45.7 cm
Optional Platens
Large
16" x 19.6" / 40.6 x 49.8 cm

Small
10.5" x 13" / 26.6 x 33 cm

More options available soon.
Required Operating System
Windows 7/8/10, 32-bit or 64-bit
Recommended Graphics Application
Adobe Photoshop, Adobe Illustrator and CorelDRAW
Supported File Types
TIFF, PNG, JPG, PDF, BMP
See what's in the box
Contact us for our latest promotions or to find out everything we're offering in our Ri 1000 DTG Printer package.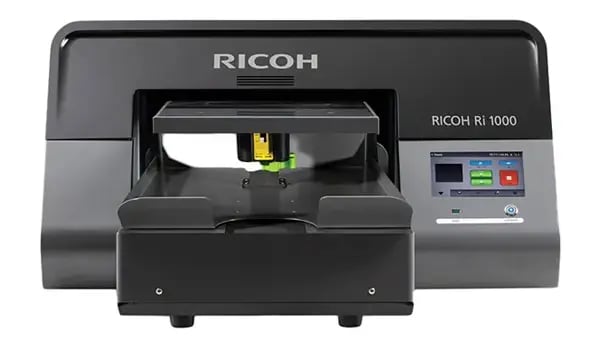 Ricoh Ri1000 Garment Printer with 1-year Warranty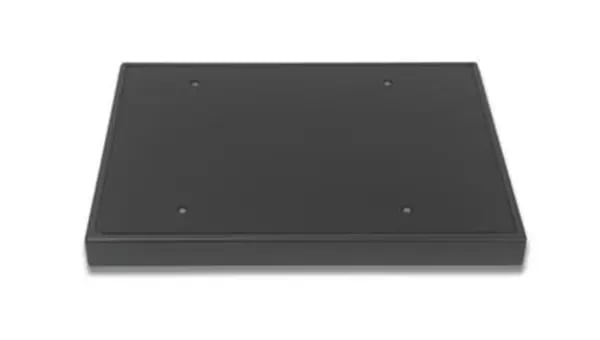 1 Medium Size Shirt Platen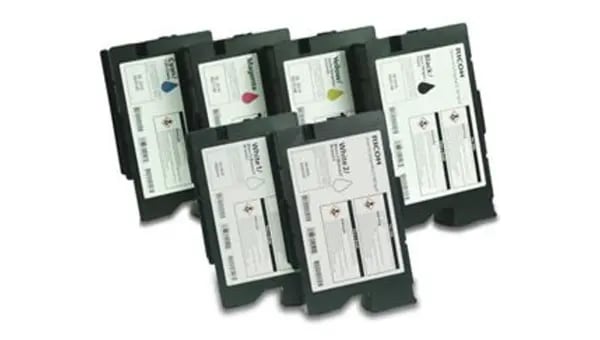 Full CMYK + 2 White Ink Cartridge Set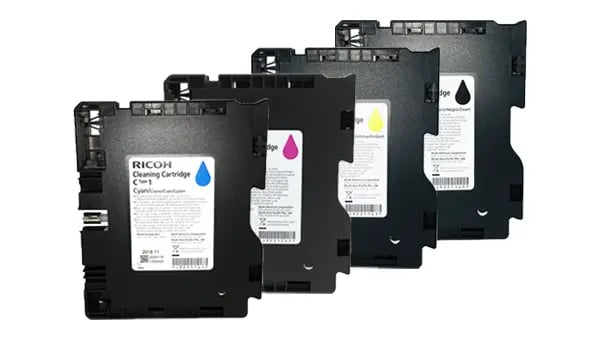 Full Cleaning Cartridge Set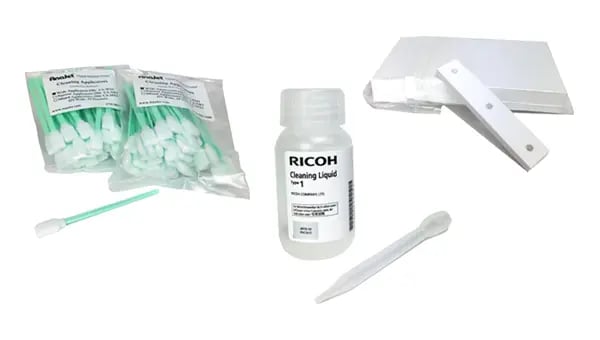 Maintenance Supply Kit
ColorGate Software Access
The best deals on the Ricoh Ri 1000, direct from the manufacturer!
Already a Ricoh DTG owner?