Introducing the RICOH Ri 3000/Ri 6000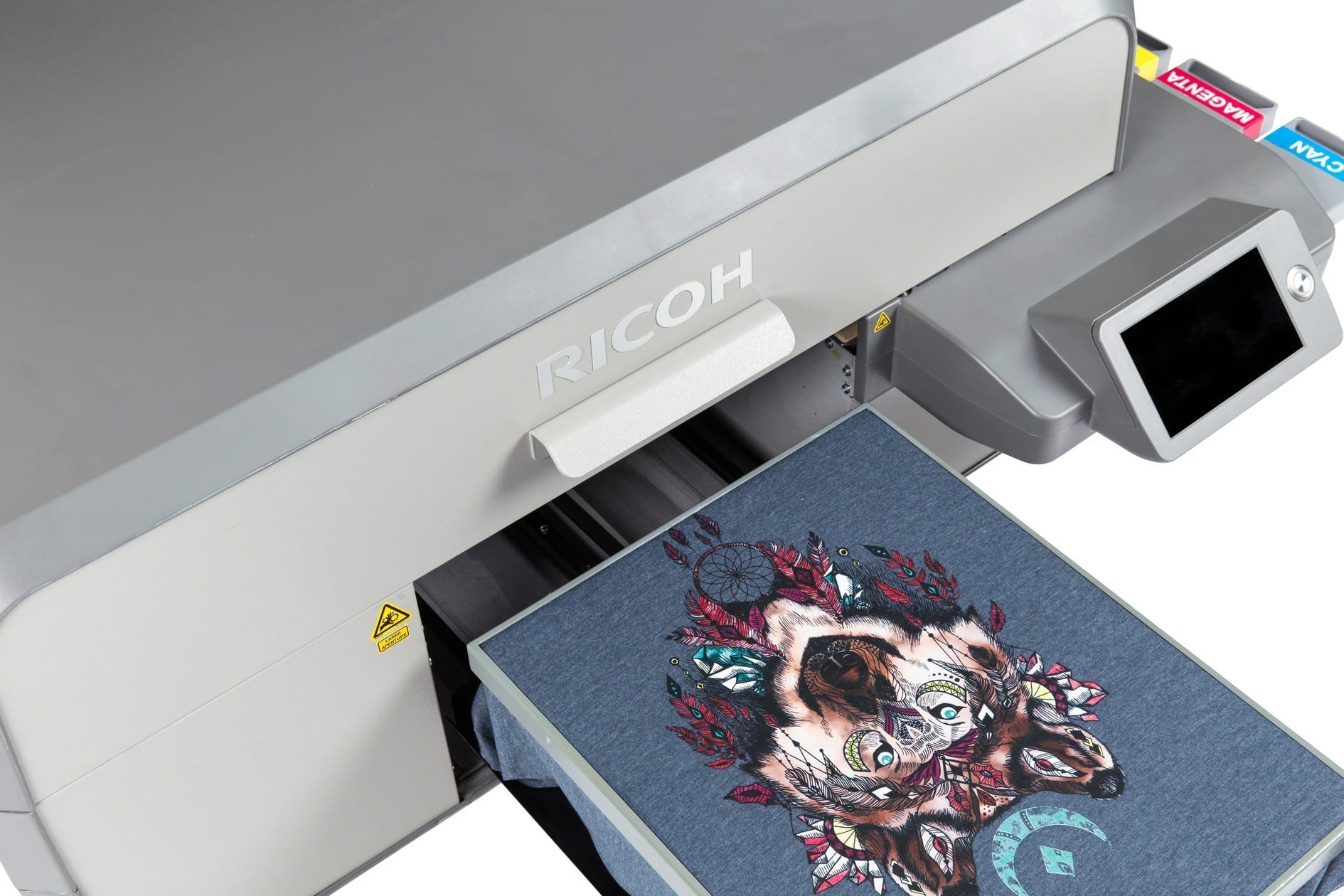 Ricoh DTG
Tustin, CA – May 8, 2017 – Today Ricoh makes their official entry into the direct to garment printing industry with the release of the RICOH Ri 3000 and Ri 6000 printers. "As AnaJet, we led the industry in establishing the trend of direct to garment printing." said Karl Tipre, CEO, AnaJet, Inc.. "In January 2016 AnaJet became a Ricoh company and we immediately began work to bring together the best of AnaJet direct to garment innovation and Ricoh engineering and performance excellence. The culmination of our efforts is the brand new Ri 3000/Ri 6000 printers that will represent a new standard for the industry."
Introducing the new RICOH Ri 3000/Ri 6000 printers, more than just a new name, more than a product update, this new line of direct to garment printers deliver blazing-quick print speeds, industrial-grade reliability and showroom quality prints.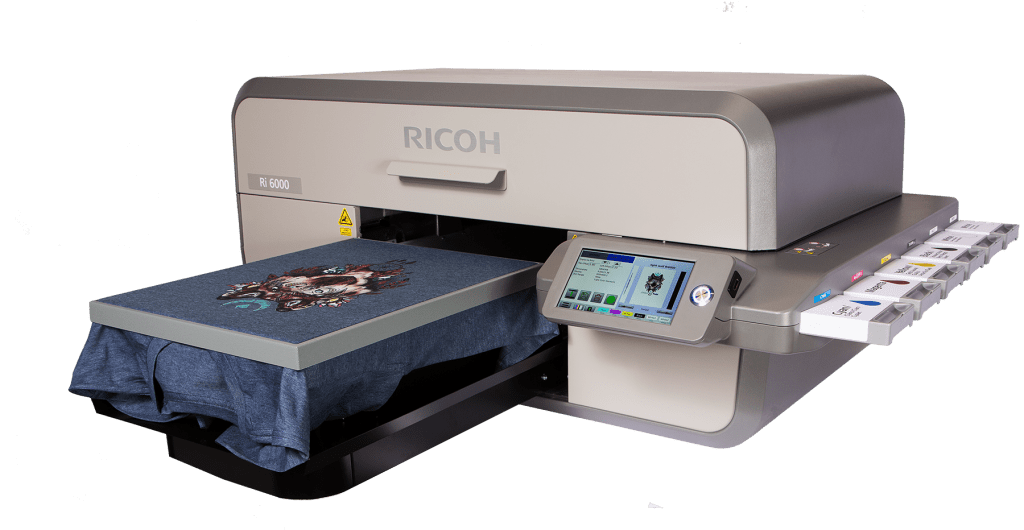 Discover the shortest route from design to print. Eliminating timely and costly set up and color separation processes traditionally found in screen printing by printing directly onto garments. This new generation of printers simplifies the entire apparel printing process to three simple steps: design, print, cure. Now you can process custom one-off prints or high quantity orders for t-shirts, hoodies, hats, socks and more. Wearable fashion is now printable fashion.
The comprehensive direct to garment solution: The RICOH Ri 6000 is fast, capable of printing a full-color 12″ x 10″ graphic on a light garment in less than 27 seconds. Manufactured under Ricoh's ISO 9001 and ISO 14001 certified factory in California, the Ri 3000/Ri 6000 printers feature RICOH MH2420 industrial-grade piezo-electric print heads that are rated at 100 billion actuations. These printers provide an intuitive printing experience, putting the control at your fingertips with a new 7″ color touch panel display to preview, organize and print your vibrant high-definition photo prints and CMYK designs.
The RICOH Ri 3000/Ri 6000 printers will be available through AnaJet in May and will be available internationally later in 2017.
To learn more about the RICOH Ri 3000 and Ri 6000 please visit www.ricohdtg.com
New Ricoh Direct to Garment printers make it easier than ever to add eye-catching applications to varied media – Official Ricoh Press Release
---
| About AnaJet |
Founded in 2006, AnaJet was formed with a sole-focus on providing optimized direct to garment printing solutions. AnaJet has pioneered the direct to garment industry starting with the mass production of its first direct to garment printing line in 2006. In 2011 AnaJet launched the purpose-built mPower i-series featuring class-leading print speeds and patented direct to garment technology. In January of 2016, AnaJet became a wholly owned subsidiary of Ricoh Printing Systems America, Inc. and operates at the Ricoh facility in Tustin, California.
| About Ricoh |
Ricoh is a global technology company that has been transforming the way people work for more than 80 years. Under its corporate tagline imagine. change. Ricoh continues to empower companies and individuals with services and technologies that inspire innovation, enhance sustainability and boost business growth. These include document management systems, IT services, production print solutions, visual communications systems, digital cameras, and industrial systems.
Headquartered in Tokyo, Ricoh Group operates in approximately 200 countries and regions. In the financial year ending March 2016, Ricoh Group had worldwide sales of 2,209 billion yen (approx. 19.6 billion USD).
---
For further information, please visit www.ricohdtg.com
For further press information, please contact:
AnaJet, Inc.
Paul Crocker
Tel: (714) 662-3200
E-mail: info@anajet.com
Homepage: www.ricohdtg.com
Join us on Facebook: www.facebook.com/anajetinc