Software
Comprehensive software solutions for optimized direct to garment printing.
Getting a perfect print on the garment of your choice is easy with the help of AnaJet's RIP software. Use the included AnaRIP software to quickly process images. For advanced functionality and ultra-optimized profiles for even brighter, more accurate colors, choose Kothari Print Pro.
AnaRIP
AnaRIP software is intuitive and easy to use. Included with your printer purchase, AnaRIP helps you get started printing as quickly as possible.
Easy
AnaRIP's default profiles are optimized to provide beautiful results in most printing scenarios. For highly specialized prints, included tools make further custom adjustments a breeze.
Quick
When it comes to DTG printing, all images must be processed and exported as a printer-readable file. AnaRIP is designed for use with your machine and rips images in seconds.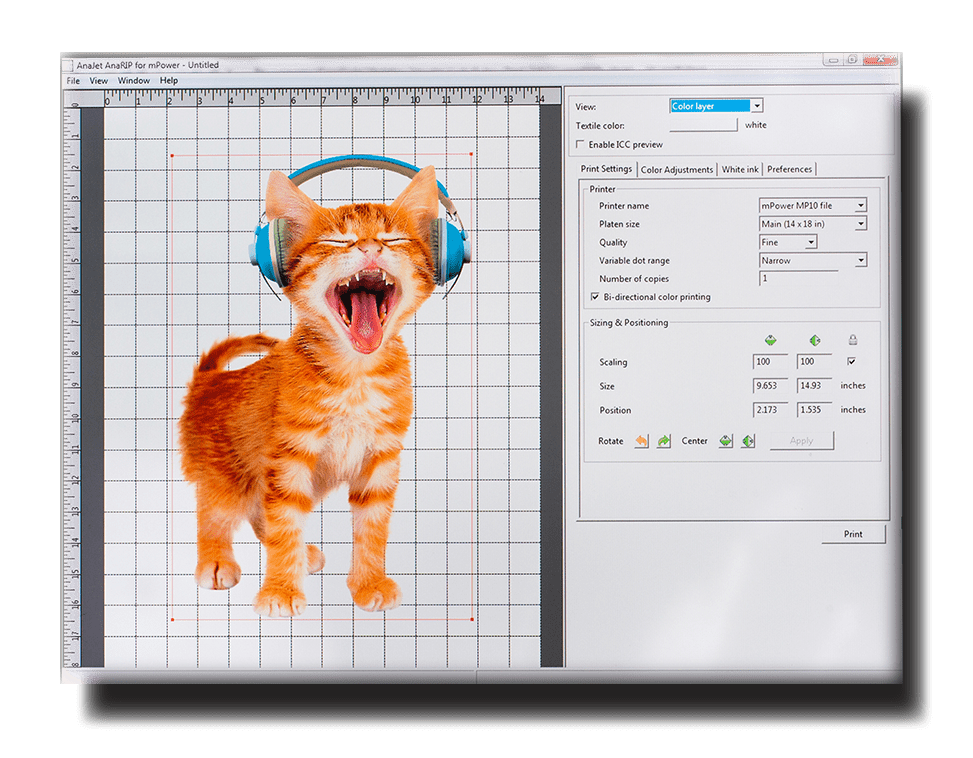 TrueView
Preview your design in true color. AnaRIP TrueView accurately matches colors on your monitor with your shirt color, so you can see how your printed garment will look when it's complete.

Calculate Ink Cost
AnaRIP accurately measures the amount of ink required and how much it will cost, helping you to set shirt prices more easily.
Kothari Print Pro
High-performance DTG printing demands high-performance RIP software. Save money and enjoy ultra-optimized color profiles and advanced functionality with Kothari Print Pro created by industry leader, Kothari Info-Tech.
More Profiles, Less Ink
Get brighter, more accurate colors with Kothari Print Pro's expanded set of highly optimized print profiles. Kothari Print Pro even helps you save money by reducing ink usage on black garments by up to 44 percent when compared to AnaRIP software.* Utilizing an advanced algorithm based on the garment's color, the software minimizes waste by more accurately calculating the amount of ink needed to complete your print.
*Ink usage test performed on black t-shirts using a set of standard sample images printed in "White Highlight" mode with default settings.
Advanced Features
Unlock the power of Kothari Print Pro software with advanced features: Directly manipulate RIP image colors, load and position multiple images on the fly, and more!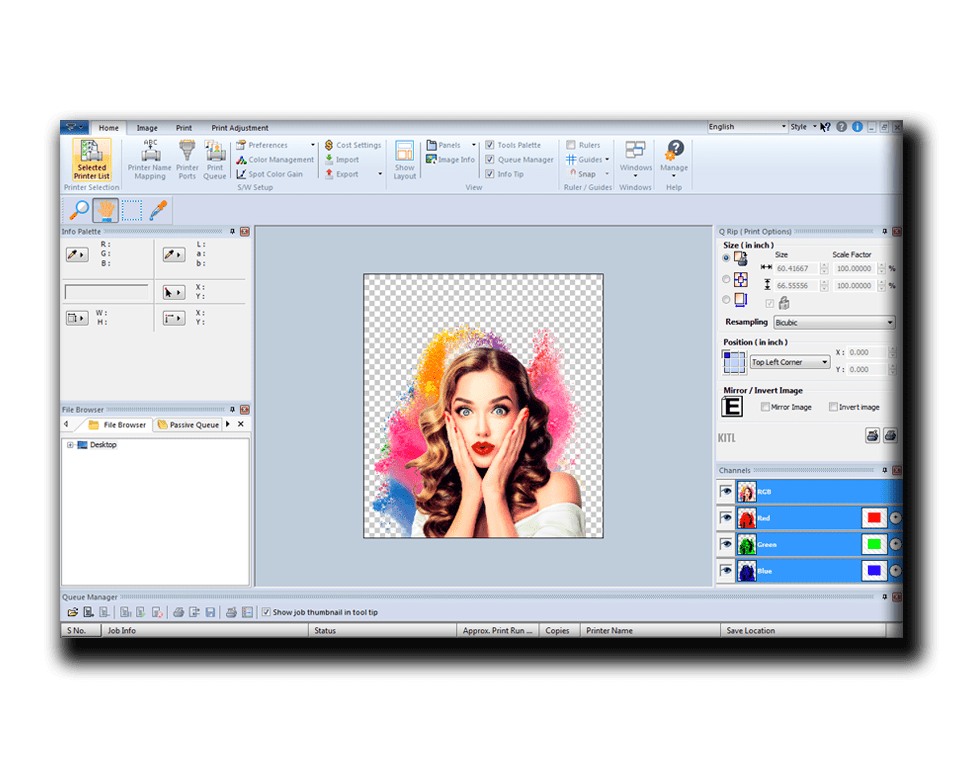 AnaRIP & Kothari Print Pro System Requirements
Specs
AnaRIP
Kothari
Recommended graphics application
PhotoShop/Illustrator/CorelDraw
Compatible file formats
TIFF, PNG, JPG, PDF, PSD, AI, BMP
Required Operating System
Windows 7/8/10,
32- or 64-bit
Windows 7 (32-bit) or later
Minimum processor and memory
PC Based 2.0 GHz,
2GB RAM
Pentium i5 2.3 GHz or faster,
4GB RAM
Computer storage
2GB hard drive space
High speed SATA interface. Size depending upon
the TM usage requirement (Print Pro uses hard disk as primary
scratch space for storing image files). Recommended 100GB
or more free hard disk space.
Minimum monitor resolution
1024 x 768 or higher
SVGA 1360 x 768, 24-bit color or better
Maximum image size
4200 x 5000 @ 300 dpi